National Cartoonists Tour: Washington DC, Kuwait, Iraq
October 08, 09 & 10, 2010
The day after the USO Gala we recovered enough to go to Walter Reed and draw pictures for some of the injured troops. Photos aren't allowed to be taken inside, so you'll just have to trust me that that's what we did. 
After an 11 and 1/2 hour plane ride from DC to Kuwait, we hop a bus to our hotel. Look how happy Bill is to be sitting a little longer.
Rob's already donning his shades in preparation for the throngs of paparazzi. We didn't have the heart to tell him Rose McGowan was long gone.
Shortly after our arrival at the hotel, this gentleman found out we were a group of cartoonists and excitedly asked if the "B.C." cartoonist was with us. Mason was kind enough to sign some "B.C." propaganda for him. I offered him some signed "TUNDRA" propaganda but he said it wouldn't fetch enough on ebay.
These three portraits hung in the lobby. Not sure who they are but the fella on the right looks like he just fell for the "Pull My Finger" joke for the first time.
Dinner that evening. Mason was really surprised to find out Baba Ghanoush wasn't an Arabic pop singer.
We made these guys sit at the kid's table.
The next morning, we head out to several different camps to begin drawing for the troops.
Ray & Mason - Ready to draw.
Ray's doll (action figure) is ready to draw as well.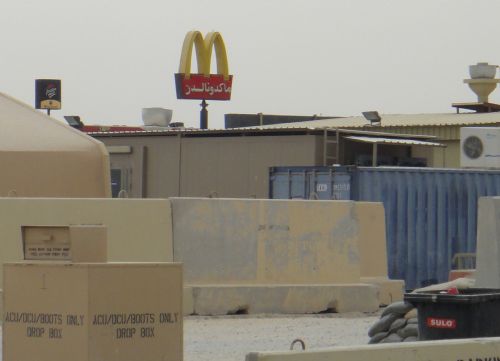 It's nice to know you're never that far from home.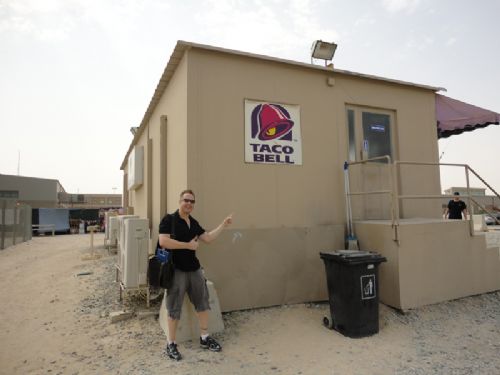 Ed's favorite was the 7-layer camel chalupa.
Dave C. in action.
Dave M. in action.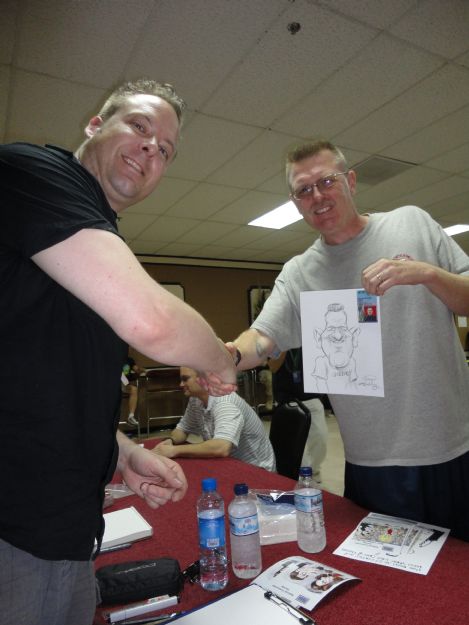 Ed once again making someone look ridiculous and getting thanked for it.
Mason trying to stay in the lines.
The morning of Oct. 11 - Getting ready to take a C-130 into Iraq.
We were told we had to wear flak jackets and helmets because we were considered "high value targets". That was the first time a compliment ever made me pee my pants.
Mason & Dave M.
I have to admit, Ray looked the most "soldierish" out of all of us. It's hard to believe he was court mashalled from the Salvation Army.
This would be the first of many flights
we would take on a C-130. The in-flight movie was lame and the flight attendants weren't too cute, but it was fun none the less.