National Cartoonists Tour: Washington DC, Kuwait, Iraq
The National Cartoonists Society first began its association with the USO all the way back in World War II.  Since that time, professional cartoonists and caricaturists have made many trips all over the world to visit and entertain troops via sketches or just sharing a word of encouragement.  Over the past 70 years more than one hundred cartoonists and caricaturists have participated in military-related trips such as this.
The following photos and text record just a small part of a recent 10-day USO/National Cartoonists Society tour stretching from our nation's capital all the way to Baghdad, Iraq. It was my great fortune to have been given the opportunity to be a part of an incredible group of cartoonists for this latest USO/NCS tour. I hope you enjoy my trip down memory lane.
-Chad 
October 07, 2010

I think the USO knew where they were sending us wasn't going to be your average vacation destination, so they were gracious enough to let us attend the 2010 USO Gala in Washington D.C. - It would prove to be our last taste of glamour (or alcohol) for a couple weeks.

The "Band of Boneheads" - pictured from left to right - Bill Hinds (Tank McNamara), Ed Steckley (Mad Magazine +), Tom Stiglich (Uncle Joe, editorial cartoons), Mason Mastroianni (B.C., Wizard of Id), Ray Alma (Mad Magazine +), Jeff Bacon (Broadside), Dave Mowder (Licensing artist for Disney, Warner Brothers +), Dave Coverly (Speed Bump), Chad Carpenter (Tundra), Rob Harrell (Adam @ Home, Big Top).

Rob shmoozes with Rose McGowan - A restraining order was soon to follow.

Me with the lovely Trisha Yearwood - I shoulda worn my high heels
.

Mason with Karri Turner (JAG) - There's a reason we refer to Mason as "Magnet", the ladies love him (therefore, we hate him.)

Like I said - "Magnet".

Dave M., Bill, Dave C., and Ray discussing which fork to start with. They eventually decided to avoid any embarrassing faux pas and just eat with their hands. They later told me the bouillabaisse burned their fingers.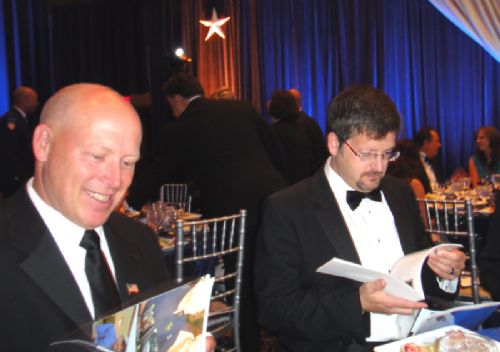 Luckily for Jeff & Rob, they had menus with pictures.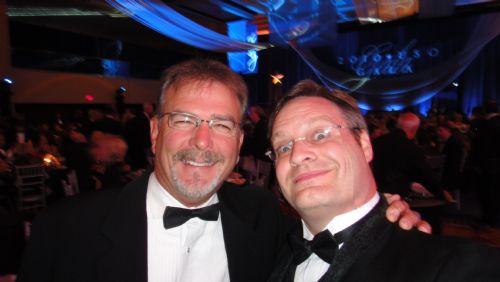 Bill Engvall & I - I could almost hear him thinking "Who the heck is this guy and where did Rose McGowan go?"

Ray, Mason, myself and Rob doing our best to appear to fit in - Not an easy job for guys who are used to spending most of their lives tucked away from the public eye chained to their drawing tables.

Toward the end of the evening.
As you can see from the above photo, we seem to have lost three of our guys, but replaced them with one of the wonderful USO folks, Joan Cote - A more than fair trade.
Click below for more photos of our continuing adventure!

To learn more about who's who in our group of 10, click here!